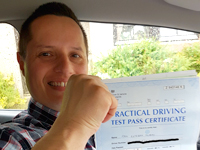 Paul Murray
Great overall driving experience
Hi Mike, Thanks again for all your help and advice which enabled me to pass my driving test first time with you. Mike was great, easy-going, patient and gives you extra confidence when teaching you. Car was in great conditions too and easy to get used to. Was always punctual, and has very good character. Provided me with crucial extra tips which came in very handy when sitting the test. Would 100% recommend Mike to anyone who's starting to take driving lessons. Thanks again Mike. Best regards, Paul Murray.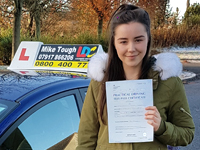 Kerstin Teare
I've Passed
I was recommended to Mike through my boyfriend who had already passed 1st time with him. I found Mike to be very patient with me as I was a complete beginner to driving. I found his methods of teaching very effective and this will definitely stay in my mind as I officially start to drive ! Mike was extremely supportive and prepared me not only to pass the test but also to be a safe and efficient driver. I will definitely be recommending him to my friends. Thank you so much!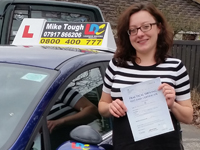 Kasia Matula
I've passed !
I can highly recommend Mike as a driving instructor. Mike is a patient and optimistic person. Lessons with him are well structured, he explains things very well and gives you the clear feedback everytime it is necessary focusing on your progress. You can really feel he plans your lessons carefully, mastering all the details to make you became the confident driver. It was a real pleasure to drive with Mike and good investment of time and money. Thanks Mike.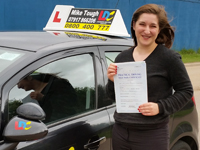 Anna Karbowska
A while back I was browsing the web looking for an driving school and I was assigned Mike from LDC. I booked a block of 10 classes initially and I passed the test after 20 hours of driving with Mike on my first attempt! Throughout the whole learning process Mike was clear, encouraging, patient, punctual and respectful. He used a combination of teaching tools suited to different learning styles: easy to understand spoken instructions, visual aids, digital aids (iPad) and written materials. Mike is very experienced and knows the area like the back of his hand, which also made each session very efficient.
Mike gave me plenty of information on what is expected of me during the exam and helpful tips to pass it. More importantly, he used every opportunity to offer advice on how to drive safely and stressed the importance of being minded of other road users. It was easy to arrange times, Mike sent a text before each session and was always punctual and prepared. Mike is very passionate about driving and teaching to the highest standards. If you are looking for an instructor and want to not only just pass your test, but learn to drive for life I would recommend that you contact him.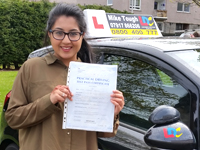 Hajrah Ahmed
Mike is one of the most supportive, calm and patient people I have ever come across. Getting over my nerves was the hardest part for me in sitting my test but with his continuous praises and positivity, it gave me the confidence I really needed. He was always on time and was never concerned if the lesson ran over time. I will definitely recommend him to all future learners, thank you for everything once again Mike.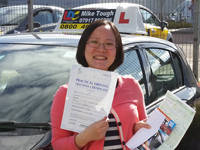 Youqin Weng
I passed my test recently with a great instructor Mike Tough from LDC. He is very patient and calm and I really enjoyed my lessons this helped me to learn from any mistakes in order to know what to do if something similar happened again. I definitely would recommend Mike to my friends. Thanks Mike ;-)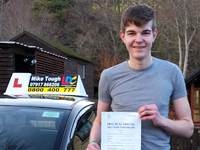 Greg Culling
Mike was a great driving instructor! Having had a bit of driving experience a couple of years earlier, Mike was the third instructor I had and he saw me through my test first time. Always punctual and even took the time to come to Ballater to take me for lessons. I would and will be recommending Mike to any learners looking for an instructor!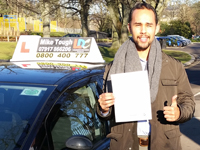 Yaseen
Mike was an excellent driving instructor. He was always on time, knew the rules inside and out, was extremely patient, and he was always making sure that I drove at a very high standard at all times. He is also very knowledgeable in the methodology needed to pass the UK driving test. I really benefited from his help and I would highly recommend him to all potential test takers!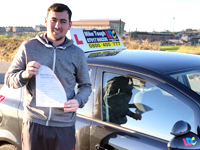 Liam McGilton
PASSED !!! Finally passed after 4 times of trying with another instructor. My first time with Mike and the confidence he gave me resulted in me passing. I would recommend Mike to anyone wanting to learn drive, he's a great instructor.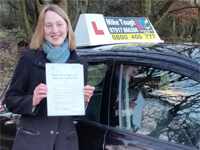 Toni Hausler
I found Mike to be a great instructor - very patient, supportive and positive. You can't help enjoying the lessons, and he obviously really cares about his students. I was limited in the amount of time I had available, but he was very understanding of my circumstances and managed to get me to test standard in less than two weeks. He was very professional throughout and frequently went the extra mile to help me out. I would thoroughly recommend learning to drive with Mike.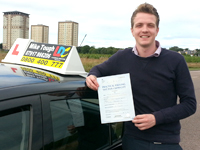 James Valentine
I started learning to drive in 2007 when I was 17. At the time, I was completely unprepared for the tests that I sat, and I ultimately failed twice before giving up. After moving to Aberdeen University and graduating, I reached out to Mike in order to start the learning process again, more than 6 years after I had failed my tests back home.
From the start - I was very aware that I had failed in the past and it was certainly a mental hurdle that I had to overcome. I couldn't recommend Mike more highly, and I hold him in the highest regard for his help during the past few months. Mike was supportive, patient and understanding - he has a genuine passion and talent for teaching and has certainly found a career that he was destined for. If you want a driving instructor who is flexible, patient, supportive, and has a great knowledge of driving and driving standards - you should definitely give Mike a call.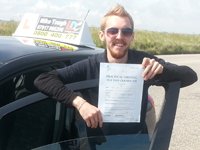 Glen Sim
Many thanks Mike for all the help in getting me through my driving test.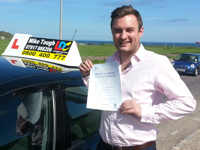 Murray McGuigan
I passed! Truly is the best feeling in the world! In all honesty, I would not have passed if it not for the all round support and instruction of Mike Tough. I met Mike in April, I immediately recognised he was a very positive man who quickly adapted his instructor method to suit me. Each lesson pushed me enough to progress quickly but also keeping within my comfort zone. His support on test day really put my nerves to bed and I felt confident getting in the car. The fact I passed in June speaks volumes about his ability as a great driving instructor. I cannot thank you enough Mike, you have helped me reach a life mile-stone and I will always be grateful and will continue to recommend you to all new drivers. Thank you.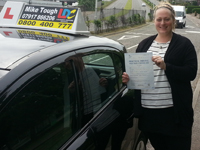 Emma Duncan
Mike is a fantastic driving instructor, he is very patient and always on time for every lesson, I knew from my first lesson he would be the one to get me though my test as in the past I have always just given up! With his approach to teaching I passed first time, I can't recommend him highly enough.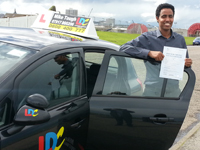 Tsegay Fessehaye
Mike is a brilliant driving instructor, Mike made me feel relaxed and there was a great atmosphere during the lessons.He is respectful of your needs, always punctual and has a good manner. If you want to take driving lessons, I would recommend taking them with Mike