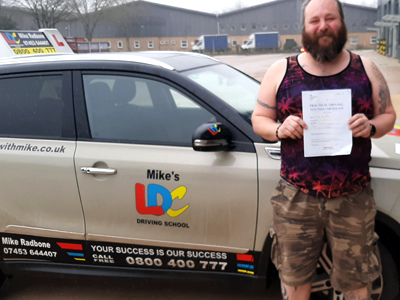 Martin
First Time Pass
So, at 42 years old I decided I need to get mobile. I found mike after a Google search, what a find! I had previously done driving lessons in my murky and distant past but never settled, this is when I discovered motorcycles, and completed a motorcycle test with gusto. Now I'm older and my leathers don't fit so well, and my two children, one in each pannier, Decided that four wheels was inevitable. I rang Mike, he answered all my questions and really made me feel like i could do this, despite avoiding it for so long. I'm pleased to say that I passed my test first time. So thank you Mike, I would and have highly recommend your services. Martin. Well done to Martin (man mountain) Coombes, first time pass after 22 hours, enjoy your new freedom with your kids
Sara Salin (Age: 27 Chemist)
Before I started my driving lessons, I very much doubted my ability. I dreamed of driving my own car but believed it to be an impossible dream. Fortunately, that changed when I decided to use Mike's LDC driving school. I find Mike to be very informative, patient, honest and on top of that funny, an easy going driving instructor. I would definitely recommend to everybody.
Chloe Perkins
I have started my driving lessons with Mike, and really enjoyed all of them so far. I was so nervous to start driving lessons, I've been putting it off for years but Mike is really patient and makes you feel at ease (and now I actually look forward to the lessons). As I started my lessons with literally no knowledge of driving, Mike has been extremely patient and makes sure I understand everything in great detail before we move onto another topic. Mike is a great teacher, he's very patient, calm and also goes out of his way to ensure you are devolping at your own pace. He has a great sense of humour and very easy to get on with, which makes a huge difference when you are sat in a car with someone for two hours! I'd really recommend Mike if you are looking for a reliable, patient and friendly driving instructor.
Megan Elizabeth Roe
Had my first lesson with Mike today after not learning for two years. Got through so much in a two hour period which was unexpected! He was completely professional and reassuring when I was anxious. Can't wait for more lessons, would definitely recommend Mike as an instructor to anyone/everyone.
Chloe Perkins
Anyone who wants a great driving instructor, please get in contact with Mike! He's super patient and has made me really enjoy my lessons (which I never thought I would) - highly recommend 😊
Maria Wren
I have had 3 x 2 hr lessons with Mike so far I have had 30 hrs driving lessons before but my confidence was really low and I have had 3 different instructors but was getting no where. Mike is a very good instructor I was very nervous when I first met him and drove his car but Mike talked through everything with me. He is very patient and my driving is ok but my clutch control is not very good on hill starts but Mike talked me through it and even changed seats with me to show me. My driving is now improving and I'm feeling more confident in my self. He always asks what my opinion of the lesson was and if I need to improve on anything in the next lesson, which I do as I'm not perfect I've still got a lot of work to do but I'm sure with Mike teaching me I'm sure that I will get there. I would recommend Mike to friends and anyone else who wants to learn to drive as he is a friendly, patient guy and he will do anything to help you out. P.s You can have a laugh and joke with him to